The best thing about inspiration is that you can find it anywhere. It triggers your imagination and makes you want to create something better – a piece of art that you can call your own. Designing the interior of your home is like creating an intimate space that embodies your personality. It is nothing less than a work of art that needs a lot of creativity, planning and all the inspiration you can lay your eyes on! And when it comes to inspiration, top interior design bloggers know it all. Let your mind wander and get inspired with our carefully-curated list of interior design bloggers in India.
Esha Gupta

Esha Gupta is the founder and editor of Design Pataki, an interior design studio based out of Mumbai. She has an eminent name in the design and architecture industry with a strong presence in the most recognised international design shows. Design Pataki aims at spreading the knowledge and creativity of designing through well-crafted blogs. Fabric wallpapers, innovative prints, colourful patterns and bold designs are her signature style. If you are looking for luxe interior designs, modern art and contemporary architectural styles, then Esha Gupta has instant ideas for you.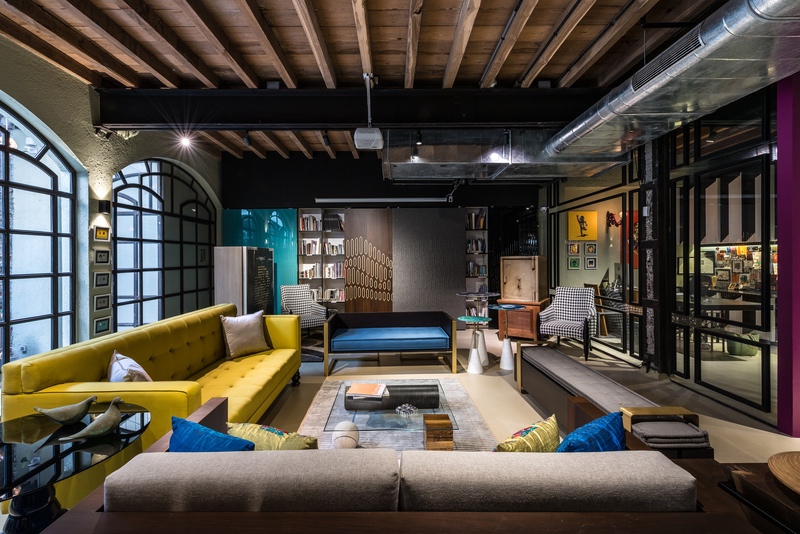 Rohina Kheera

Rohina Kheera is the owner of AA Living in Mumbai. She is passionate about textile, arts, painting and writing. She won the prestigious Asian Paints Indian Decor Influencer award in the year 2016. If you are intrigued by textiles and would love to add a touch of it in your home, Rohina Kheera has the best innovative interior décor ideas. Designing with fabrics, colours, quotes and lights is her USP. From bohemian fringe rugs that take you to a modern mythical era to tribal prints and portrait cushions, get inspired by the quirky designs of AA Living.
Shalini Ganguli

Shalini Ganguli is one of the best interior design bloggers in India because she understands that each home exudes an aura of its own. She offers customised designs that reflect your personality. Surfing through her designs will instantly trigger your creativity, pushing you to think out of the box. From earthy and modest tones to vibrant and fluidic patterns, she transforms your abode into a mood board that resonates with you. Log on to Shalini Gurung Interiors and Styling for minimalist and classy interior designs that are timeless.

Pavitra Mohan

If you are a travel aficionado who finds inspiration in little pieces of décor that depict the various cultures of the world, Pavitra Mohan's Masala Chai Life should be on the favourite tab of your browser. She loves designing spaces from scratch and shares keen insights on the designing process – from sourcing her furniture to the clever use of wall mirrors to create an illusion of space. She also shares a travel diary on the jaw-dropping places she visits in search of inspiration and awe. Soak up all the inspiration you need with magnificent chandeliers, bold wallpapers, fresh pops of colour and extraordinary pieces of art that will transform your home into a stunning masterpiece.
Disha Mishra Dubey

Disha Mishra Dubey is known for her easy-to-implement décor ideas that are light on the pocket, making her one of the best interior design bloggers to take inspiration from. Her décor is very relatable with strong Indian accents. A typical pin board of designs from Disha Mishra Dubey will include kitchen gardens, artistic mirrors, wall art, warm lighting and summery light curtains that personifies modern India. You can also indulge in her DIY projects and personalise your interiors as per your taste and style. Choose from budget makeovers you cannot resist at Design Décor and Disha and upgrade your space.

Bhavna Bhatnagar

Bhavna Bhatnagar is one of the best interior design bloggers in India who shares visually-rich stories on design, travel and interiors through An Indian Summer. Her minimalist designs offer a sensorial experience and inspire you to use conventional décor in unconventional ways. She also has an inspiration board where she shares interior décor designs that are inspired from random images taken from around the globe. She plays with colours, patterns, fabrics and lights to create places that are high on style and sophistication.
Rajee Sood

Rajee Sood started Home Art Accents as a personal space to channel out her love for design, art and interiors. You can find inspiration in her creative designs where the devil lies in the small details. She also has a label of carefully curated pieces of art that are handmade by the skilled artisans of rural India. Rajee Sood also shares her experience working with these craftsmen and the process of designing exquisite pieces of décor that uplift any space. This makes her one of the best interior design bloggers in India to take notes from.
http://rajeesood.blogspot.com/search/label/Home%20Style%20n%20Decor
Designing your home is an intimate process that cannot be done overnight. It takes time, patience, style, innovation and a lot of inspiration to make a good home a great home. However, when it comes to beautifully designed spaces, the quality of the building also matters. Head out to Assetz Property Group for stunning homes that pose as the perfect canvas for your artistic décor ideas.