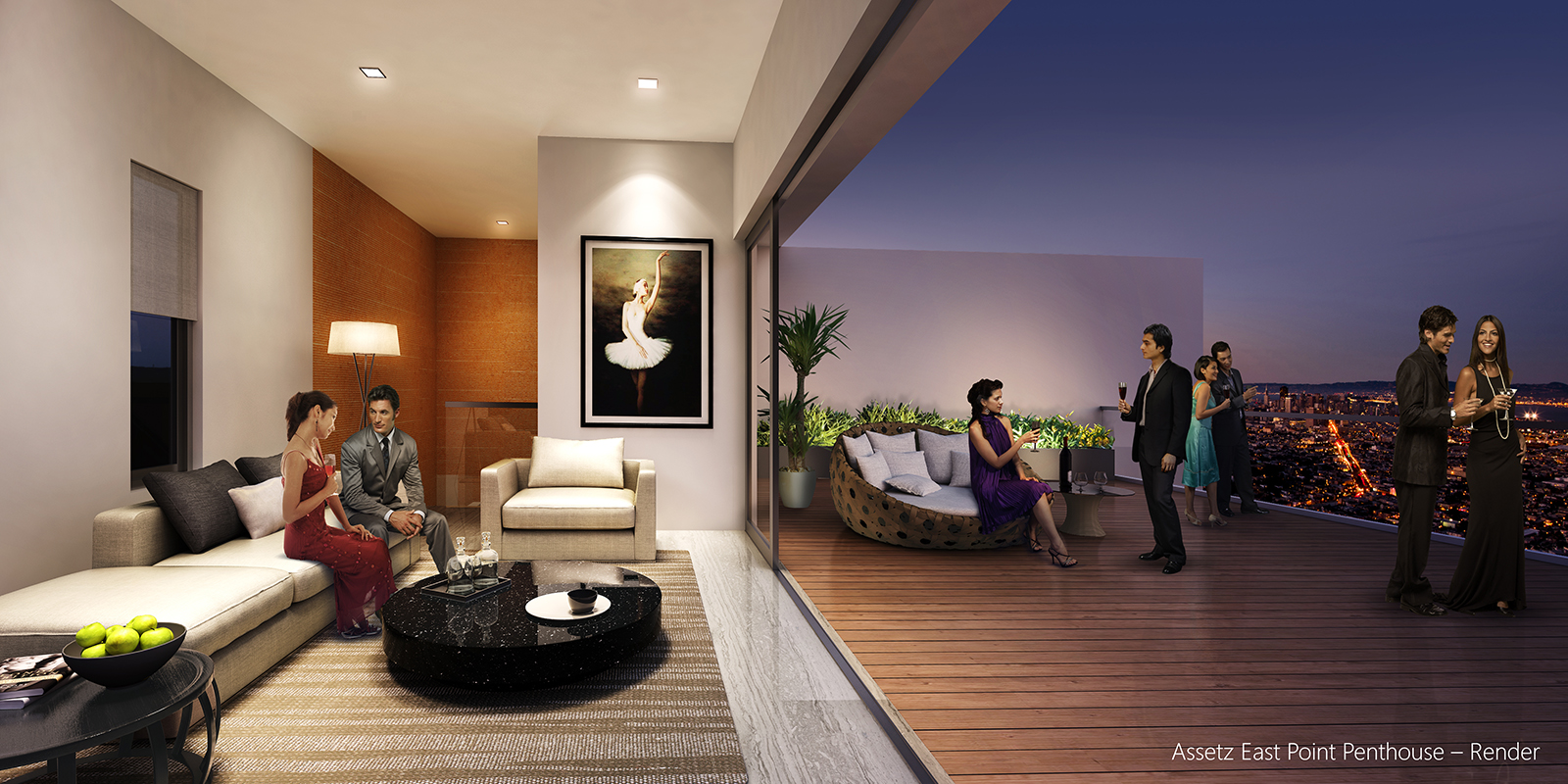 Are you looking for the peace, privacy and comfort that a suburban house brings along with all the conveniences that a life in the city offers you? Then it's time to consider a penthouse.
A penthouse is the uppermost floor of an apartment and is typically differentiated from other apartments by luxury features. It is usually set back from the outer walls and does not occupy the entire roof deck. Oftentimes, access to a penthouse apartment is provided by a separate elevator.
Here's a look at why penthouses are fast becoming dream homes in the clouds:
Penthouses afford privacy
The best thing about living on the top floor is that you get to enjoy your privacy. A penthouse, being right on the top floor, is more quiet and exclusive. You are away from the bustle and noise of the lower floors.In fact, it is even better than living on the ground floor or the first floor of your own house. You can choose to keep your windows open without worrying about peeping toms or neighbours trying to pry. The elevated height ensures optimum solitude within the urban chaos.
You have all the space you need
The penthouse apartment is typically the largest in the condominium, giving you plenty of space to indulge yourself and your family. Some penthouses occupy more than one floor. The outdoor space is usually much larger than two balconies of lower floors put together.

You can live amidst luxury
Living on the top floor lends itself to a luxurious lifestyle. Penthouses usually boast of high-spec amenities, modern furnishings, high-end appliances, finest material fittings and luxurious flooring systems. Penthouses have more than one floor, and sometimes, three. They can have a swimming pool, a private entrance or elevator, higher/vaulted ceilings, a fireplace, more square footage, over-sized windows, terrace gardens, jacuzzis, and so on.
You enjoy the benefits of location
Living in a penthouse apartment means being in the city, and yet, outside it. You get the best of both worlds, with easy access to city centre attractions and amenities, coupled with the serene atmosphere of a villa or a farmhouse. You can go to your favourite mall or get to a hospital in case of an emergency, and come back to the joy of private living.
You get to flaunt your style
Perhaps the best thing about living in a penthouse is that you get bragging rights! There you are, in the midst of luxury, with a dramatic and panoramic view all around you, lots of glass doors and windows through which to enjoy it, enough space for roof-top parties, all that light and fresh air, the jacuzzi and your own private entrance…what more could you possibly ask for?
If you are convinced the penthouse life is, indeed, the life that will suit you, you can check out the penthouses offered by Assetz Property Group. Assetz East Point, located on the Outer Ring Road, off the Marthahalli-Sarjapur stretch, and Assetz Lumos, near ISKCON in Yeshwantpur, in Bangalore, are cases in point. Give them a look, they might be just what you have been waiting for.