Introduction
If one were to note down all that makes Bangalore a city that catches attention for all the right reasons, they would end up with an exhaustive list. Leading in spheres of Information Technology, outsourcing, education and cleanliness- to name a few- the Bangalore conglomerate houses cosmopolitan crowds, expats, businesspeople and more. If the influx of 1000 people a day isn't testimony enough to its liveability, its 10% economic growth per year surely is. (Knight Frank)
The city has the lowest vacancy levels amongst seven major office markets (Pune, Hyderabad, Mumbai, Delhi-NCR, Chennai, Kolkata). Developers have not only consistently kept up with the market dynamics but have also successfully had occupiers take up any new supply that they have put out. (JLL India)
Introducing Whitefield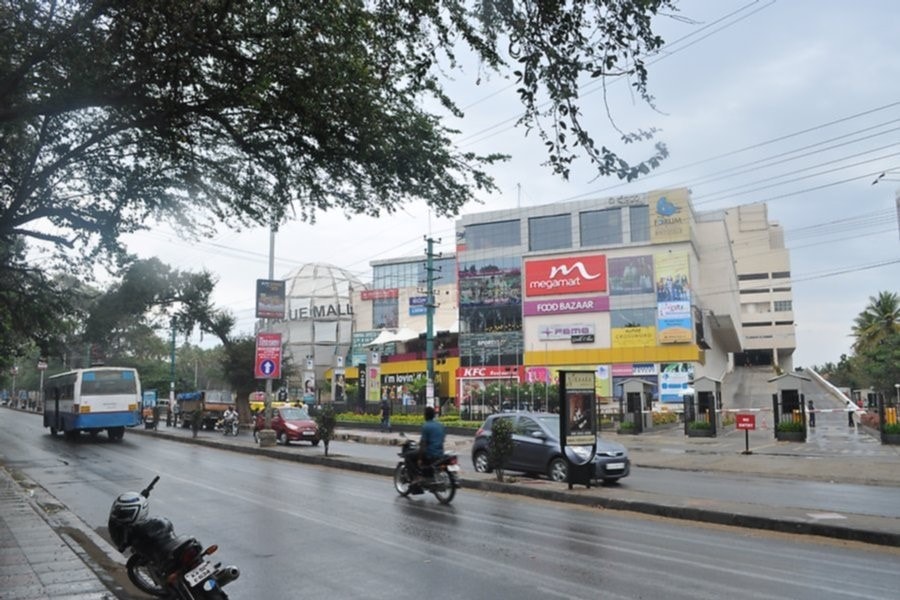 Whitefield Main Road
Image Source: Magicbricks
Like most success stories, Whitefield started at the bottom and was once a barren, hardly inhabited land. When the then Maharaja of Mysore, Chamraja Wodeyar IX- 200 years ago- gave away a portion of the land to Anglo Indians and Eurasians, not only did Whitefield get its name, but also its identity. In-fact, with the IT boom to aid this transformation, Whitefield went from being the least frequented land to one of the most sought-after localities in Bangalore. What was once barren is now abundant with IT-Parks.
A major suburban locality in Bangalore, Whitefield is also one of BBMP's (Bruhat Bengaluru Mahanagara Palike) most important parts. However, rapid growth and IT presence has had its toll on Whitefield. The luxury of self-sufficiency turns into a necessity in Whitefield since it's known for not just extremely slow moving traffic, but absolutely stagnant traffic for hours on end. Projects are underway to ease this with decks being cleared for two grade separators at Kundalahalli Gate and Hope Farm Junction as well widening of the Graphite India Junction amongst others.
The Roads To and From Whitefield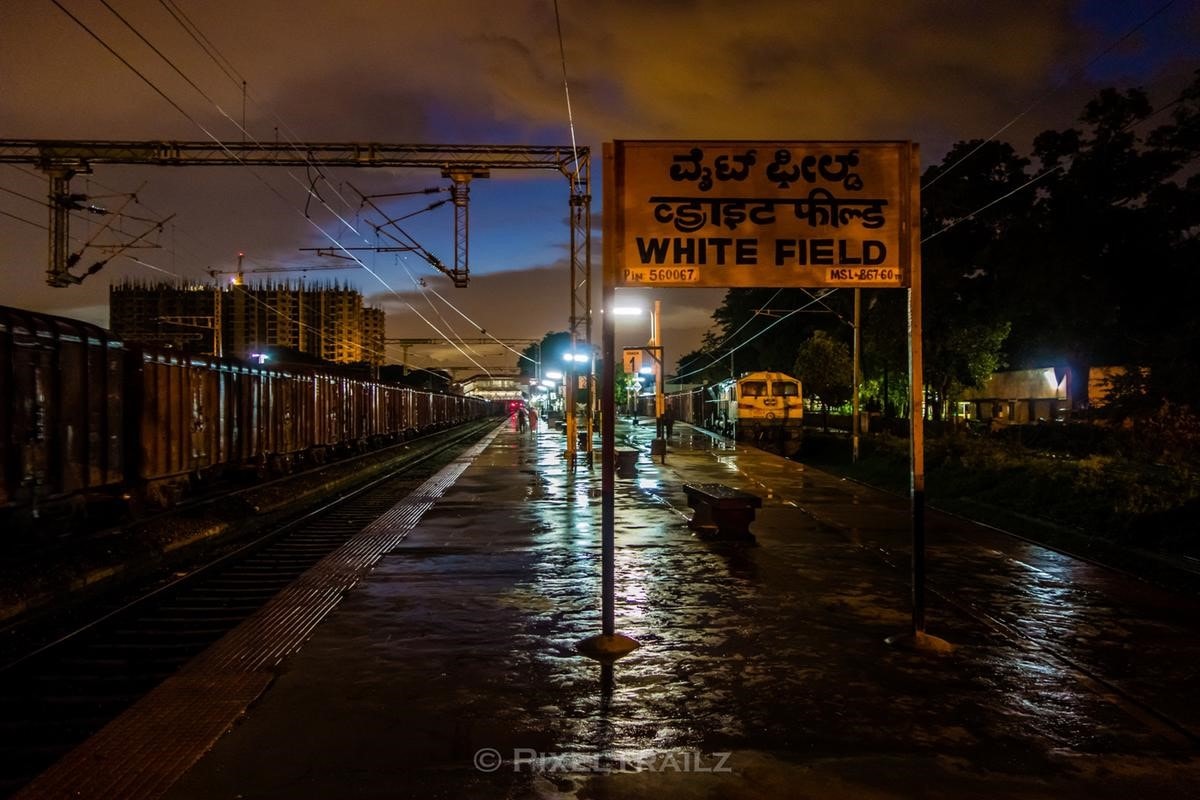 Whitefield Railway Station
Image Source: India Rail Info
Whitefield is bordered by Mahadevapura, Marathahalli, Bellandur and Krishnaraja Puram. These areas are lined with big names in the IT-world like Saint Gobain, Tata, IBM, Intel, Life Tree and more. Considering the importance of an IT-zone such as Whitefield, connectivity was one of the biggest focus points of this area as it was being developed (and today).
As a result, the area is well connected, be it via road, rail or (in the future) metro.
In terms of railways, the Whitefield Railway station which is situated in Kadugodi witnesses a flurry of trains going from its platform every day. This primarily involves trains to and from Mysore, Chennai and Kolar. The station is also expected to be elevated in status to being a junction once the quadruple lines being laid are completed. Yeshwanthpur Railway Station is an hour's drive away, while the Marathalli station is 7 km away.
When it comes to roadways, 3 km from the Railway station is the Whitefield Bus-stop. BMTC (Bangalore Metropolitan Transport Corporation) buses provide easy intercity access from Whitefield with both regular and Vajra (AC) buses frequenting all bus stops in the area. The more popular ones are Vydehi Hospital Bus Stop, Forum Value Mall Bus Stop and the Whitefield Bus Stop. Airport buses frequent these major bus stops as well. The locality also has two four-lane roads, namely Whitefield Road via Mahadevapuram and HAL (Old Airport) road via Marathahalli, that connect Whitefield to other parts of the city.
Whitefield couldn't do without a metro line and hence in the proposed Phase II of Namma Metro, there will be a line connecting Byappanahalli to Whitefield, which is expected to take the ease of connectivity a step further.
What Whitefield Has To Offer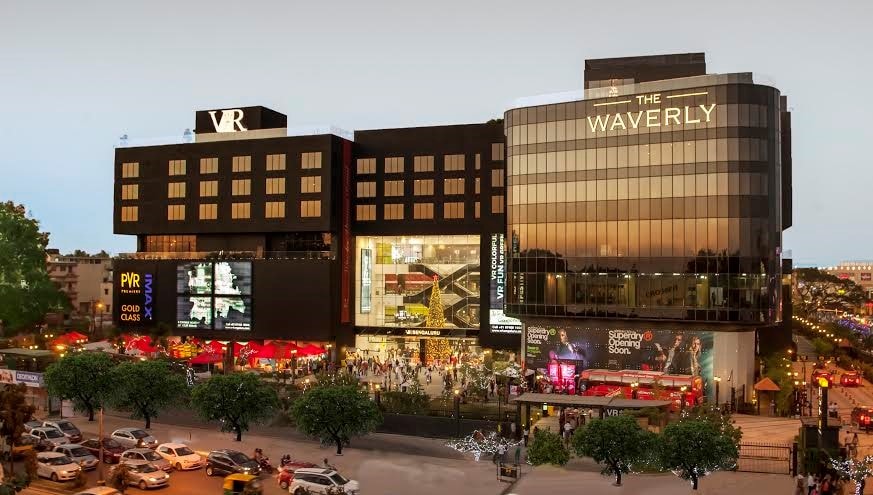 VR Bengaluru, ITPL Main Road
Image Source: BuzzInTown
Often known to make its residents self-sufficient and self-contained, Whitefield-despite its excellent connectivity- leaves no reason for long distance travelling due to its excellent social infrastructure and amenities. Infact, considering peak-hours traffic, this was a requirement for the area that it has stepped up to.
In terms of education, there are schools affiliated to all boards (national and international) and the more popular options are Whitefield Global, Ryan International, St. Thomas and The Deens Academy School and Ryan International amongst others. Colleges and institutions for higher education include Vydehi Institute of Medical Sciences & Research Centre, and Sri Sathya Sai Institute of Higher Medical Sciences, Institute of Bioinformatics.
High-end healthcare options are available with major hospitals like Narayana Multi-Speciality Hospital, Columbia Asia Hospital, Cloudnine Clinic, and Sri Sathya Sai General Hospital in the area. Needles to say the region also has quite a few specialty clinics and pharmacies.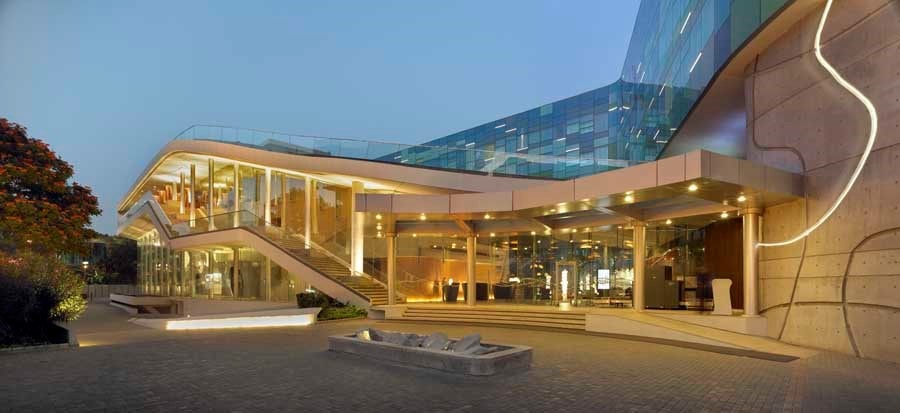 Vivanta by Taj, Whitefield
Image Source: Pinterest
Coming in an arguable third in terms of food joints and restaurants (after Indiranagar and Koramangala) Whitefield has big names in the hospitality sector like Vivanta by Taj, The Zuri Whitefield, MGM Mark Whitefield, Royal Orchid Suites, and Bengaluru Marriott Hotel. In terms of good food and nightlife, it has restaurants like The Bungalow, The Egg Factory, Burger King, Herbs & Spices, The Fat Chef, and Ji Hazoo and the more popular Windmills Craftworks, The Biere Club, Harry's Bar + Café, The Irish House, Whitefield Socials, Oliver's Pub & Diner and more.
When there's a good commercial belt in an area, shopping and malls are an imperative. Whitefield has the best to offer with Phoenix Market City, Forum Value Mall, VR Bengaluru, Inorbit Mall, Ascendas Park Square and more. PVR Cinemas and INOX offered at Phoenix and VR Bengaluru are frequented by residents. VR Mall is known to have the only H&M store in Bangalore and the only other Adidas Originals store in Bangalore (after Brigade Road) Whitefield is known to have India's first entertainment and retail mall Virginia- partnership between Virginia Developers and Smaaash Entertainment. Needless to say the area also has abundant numbers of hypermarkets, supermarkets, grocery stores and general stores as well.
Clubs like the Whitefield club, Palm Meadows club apart from parks are available as well.
What Whitefield Promises To Have
What makes an area worth appreciation is the promise of future growth and potential. The proposed Metro railway line aside, Whitefield continues to grow.
This includes the upcoming Embassy Mall on Whitefield Main Road as well as Diesel-Electric Multiple Unit (DEMU) train special services between Yeshwanthpur and Whitefield.
Considering traffic-issues, road widening projects have also been proposed for Kadugodi Road and Chinapanahalli.
The Case of Sai Baba Ashram Road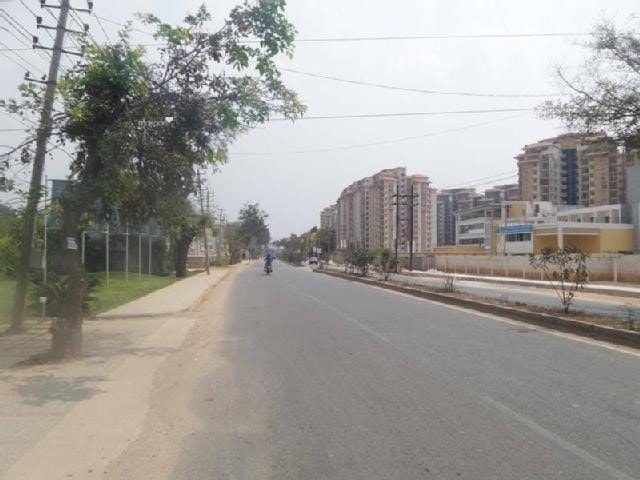 Sai Baba Ashram Road
Image Source: Image Mitula
Development flurry in the core of Whitefield has left little space for much else. As central Whitefield moved out of bounds, the focus shifted to an area that's just off Whitefield, the Saibaba Ashram Road. This area is rapidly developing and witnessing new residential projects from several noteworthy developers. Reasons for appeal of Saibaba Ashram road include – improved six-lane connectivity to the city and direct connectivity to the airport via Budigere cross. Few office and IT Parks are already functional here such as the Beary's 1 million sqft global research park. This has led to the prices of Apartment, Villa and Plot in Sai Baba Ashram to rise.
Why Invest In Whitefield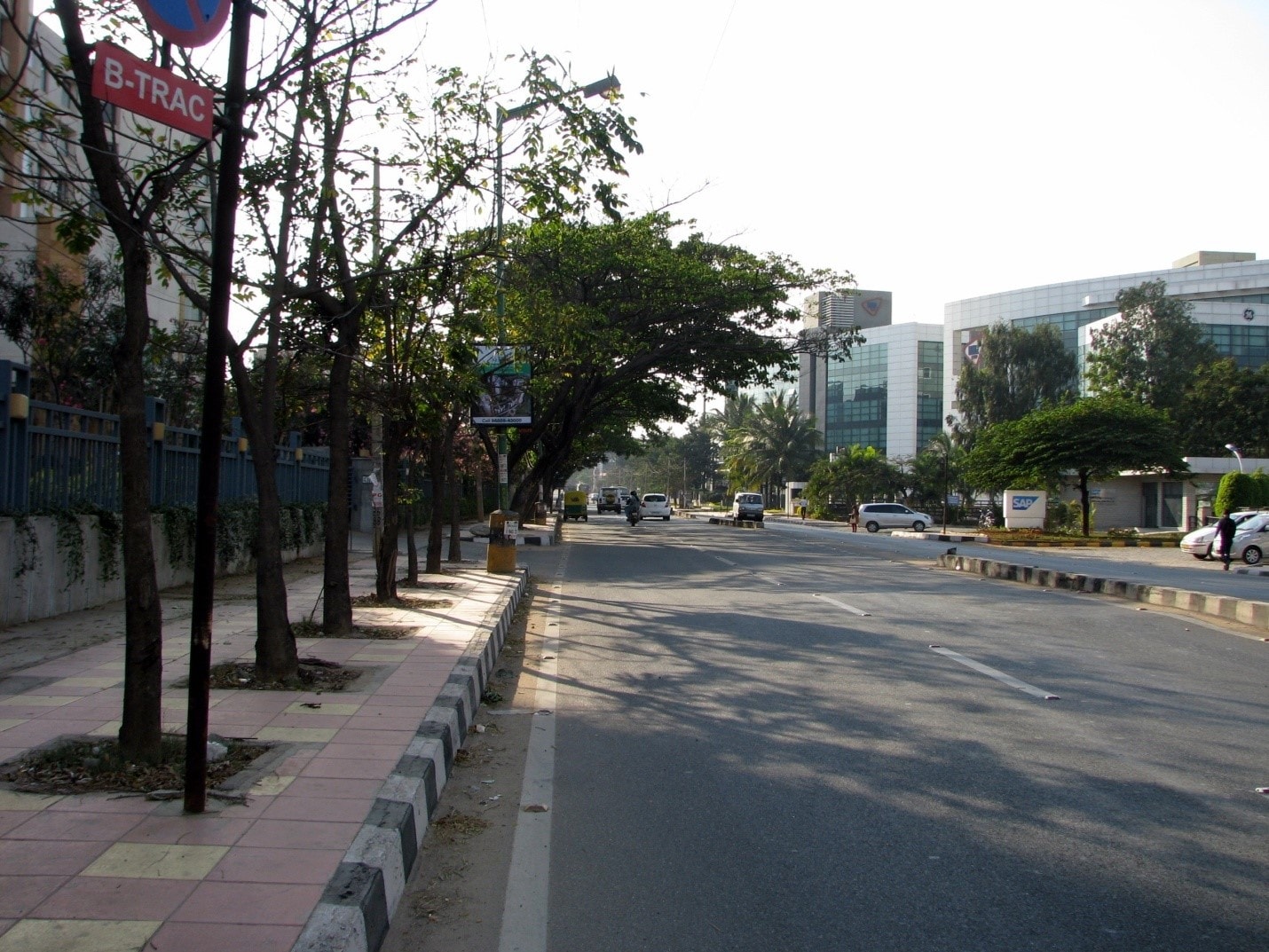 Whitefield Road
Image Source: WikiMedia
Nothing shows promise like a property close to IT-sectors. With Whitefield being in and surrounded by them, the worth of the area goes only higher. Giants like Wipro, IBM, CS and Oracle have set shops in the area and with its proximity and connectivity at an all time high, the demand for homes in Whitefield has always been high. Expats, businesspeople, IT professionals come in every day in Bangalore and would desire a home close to work spaces.
Considering the client description of the average property buyer in Whitefield, most homes offer luxurious spaces and comfort of living. If one were to closely study patterns in properties in Whitefield, they would notice high-end projects delivering the best of all worlds.
Since Bangalore is growing on all sides and further away from the centre, it's but understandable for buyers to want an all exclusive space that reduces every need for travel even as they maintain to notch facilities.
Hence the most interesting properties are those that offer various conveniences within gated complexes. Also considering the traffic that Bangalore, and particularly Whitefield is known for, most buyers look for homes that are self-sufficient, offer green spaces (Whitefield) and that limit travel to the maximum.
An apartment in the area is easy to rent out, keeping in mind how most people who travel to Bangalore for work, would look at the area as their top preference. Properties here are available from Rs. 4500-8500 per sq ft (Knight Frank, 2016).
The more popular builders in this area are all based in and around Sai Baba Ashram Road, which include Assetz, who have their project Marq offering 2,3 and 4 BHK apartments with self-sufficient facilities of a commercial complex and school for every neighbourhood in their 28 acre project, Adarsh Serenity with 3 and 4 BHK all inclusive villas and Prestige White Meadows which include apartments as well as villas offering ultra luxury.
Other builders in the area include Sobha, Nitesh, Keystone Properties, Sterling, Mahaveer, Mantri, Janapriya, Goyal and Co, Hariyana Group and Goel Ganga Group.
With relative property value stability and steady development, Whitefield is a good choice for property investment. Most builders in Whitefield are top notch and hence ensure that they are through with necessary legalities and paper works, thus easing the burden on non-residents.